Bury me with the band.
Do not mourn my death. Celebrate my life.
The lyric comes from the Belizean classic, "Naguya Nei" ("I Am Moving On"), written by the King of Paranda from Punta Gorda, Paul Nabor. The song was inspired by Nabor's sister sharing her dying wishes: don't worry about anything but taking care of the young ones, and have a band play at my funeral. The words are simple, powerful, and you hear the melody resonate throughout the Garifuna community.
One of our music and culture instructors, Joshua Arana taught us "Naguya Nei" and really fought for us to sing the song with the passion he felt in it. After some run-throughs, he told us to do away with the drums. He walked us to the shore to hold hands and sway with the waves and melody vibrating through us. "Come on guys. I really want you to feel this," he urged. We could sense the power behind the song, but I think we were all too focused on proper pronunciation to reach the performance level he was pushing us toward.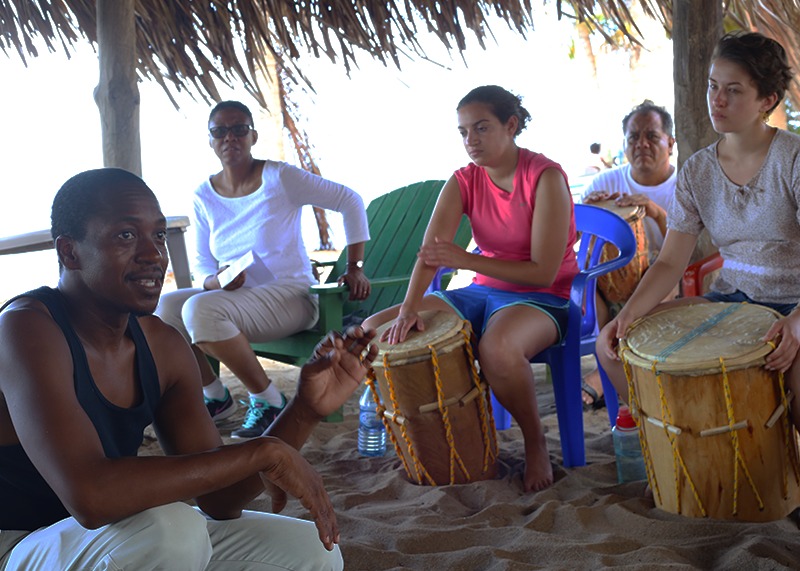 Later, we gathered to listen to the Paranda Blues Band, a well-known punta rock and paranda band Joshua organized to play for us at the Seagull's Nest Guesthouse where we stayed in Hopkins. I spoke with the DJ, Kirk "Beats" Rodriguez, who was mixing some pre-show jams while everyone was getting seated. When I asked him what shows he had coming up, he told me he would be playing music at his uncle's wake.
We learned later, local Garifuna artist John Jay Rodriguez was shot just days ago during an attempted robbery in Dandriga. We were never able to meet the beloved artist, but he was very much alive through his community, and his nephew spoke highly of him.
I told him I was sorry to hear about his uncle, wished him good luck, and sat to hear the band begin. Many of the songs they performed contained some dark messages, yet the energy was upbeat, cheerful, and worry-free. Their rendition of "Naguya Nei" was much more uptempo than ours, but the soul was alive.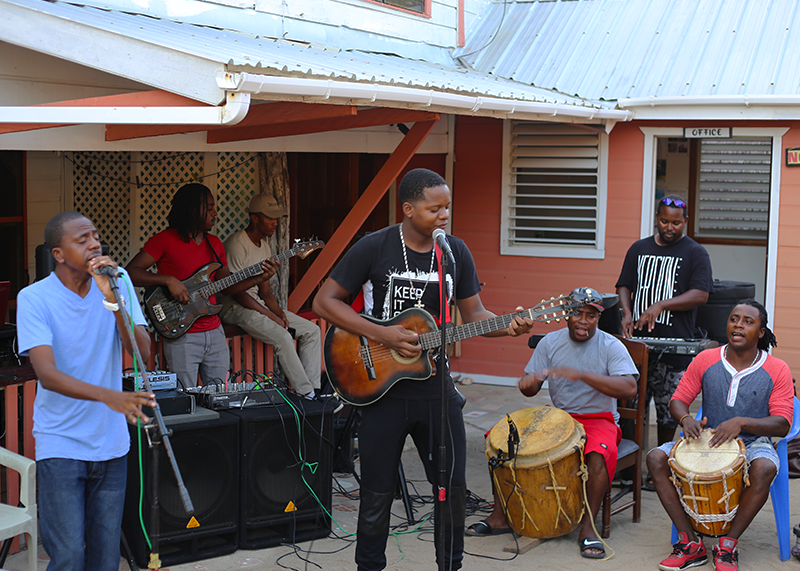 Toucan Education Programs (TEP) ended up having to resolve some scheduling conflicts that arose during our trip, and they handled the situation promptly and professionally. As a result, several different drum instructors were scheduled, and we actually gained a much wider perspective on Garifuna music and culture. Our second teacher, Raheem Mariano, who worked closely with Joshua, reviewed the paranda and punta rhythms with us. He really took his time with us and tried to present the rhythms as simply as possible, so we wouldn't forget. It was effective, but many of us were looking for more of a challenge.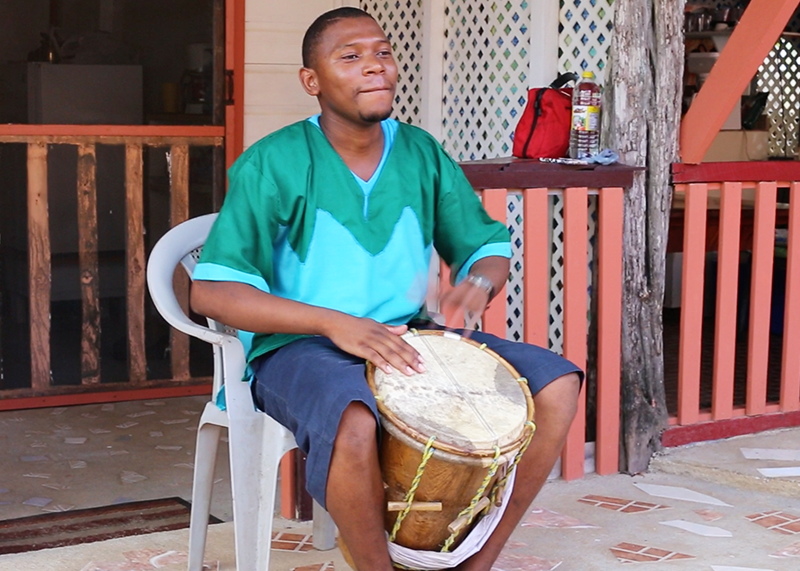 Our next instructor, Jess Flores was older and more experienced. Sitting with excellent posture and a welcoming presence, he presented us with more challenging paranda and punta rhythms, meticulously listening to each of us to be sure we were absorbing the lesson. "If you don't get it at first, just keep listening for that beat and play what you can," he said. According to Jess, the collective sound is much more important than what the individual is playing. I questioned the differences between the rhythms he was teaching us and what we had learned so far. Looking me in the eyes very seriously, he said, "Now, I've studied for years under the grandfathers of Garifuna music; I know hundreds of rhythms." He listed off one after another and continued, "That's all I'm here to show you. I just want to give you the basics. Then, you can go and do what ever you like with it."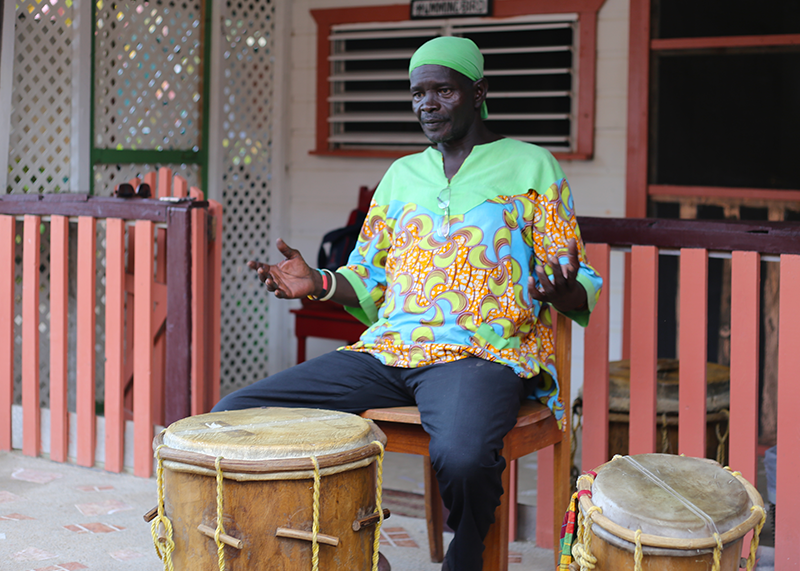 The final instructor was selected to teach the rest of our lessons, Warren Martinez. We heard him play at Tina's Kitchen the other evening. His chops were incredible; he was ready at any second to whip out fast, fortissimo solos on his buzzing primero drum. Our group agreed Warren was a nice balance between traditional Garifuna music and a progressive edge. Yet again, his rhythms were different from the others we had been taught, but we stuck with his for consistency. He even taught us variations of each rhythm, so everyone could adapt with simpler or more challenging beats.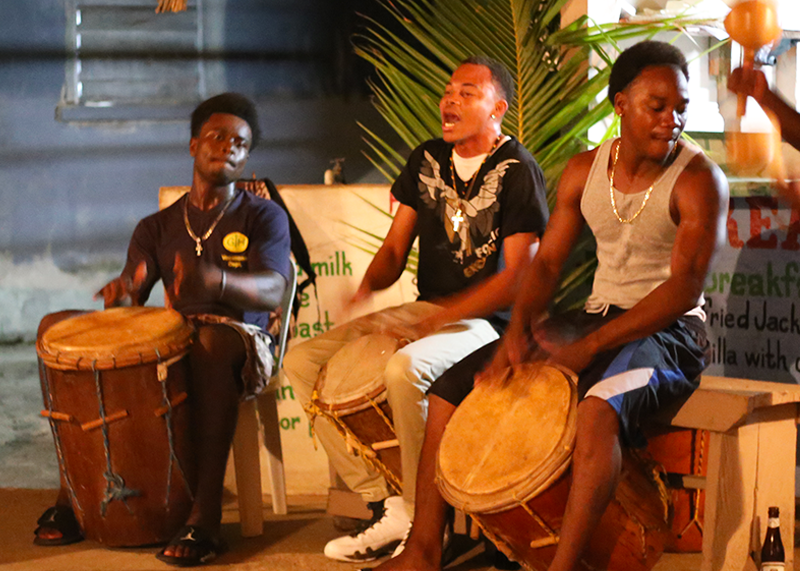 One day, we were walking from our Garifuna dance lessons down the main dirt road, and I heard my name called from a big SUV. "You don't recognize me, do you," he asked. I squinted at him and it hit me. "I'm gonna be at my uncle's wake Friday. You should come," Beats said. Did he really just invite me, a slight upgrade from a stranger, to his uncle's wake? Clearly, this isn't the event I had in mind when he first mentioned it to me.
What I imagined was probably similar to what most Americans would—very close family and friends assembled in black, telling stories of their lost loved one. Everyone would be sitting around quietly, shedding tears as John Jay's nephew plays slow ballads of mourning and sorrow.
"Are you sure? Is it not just close friends and family," I asked him. "No, everyone's going," he said. Everyone? Beats and other locals told me wakes in Belize are huge parties—celebrations of life, but I had to see it for myself to understand. Our group had already been talking about it. Everyone had been talking about it.
The day of the wake, we were scheduled for a studio recording in Dandriga. Our old friend from PG, Emmeth Young decided to join us in recording the Creole songs we learned from him. Warren conducted the second half of the session dedicated to Garifuna songs, and when we sang "Naguya Nei," people flocked. We remained focused on playing while random Dandriga citizens peeked in the studio from off the street, listening intently, snapping photos, and recording videos. You could read the song's meaning in their eyes. The song ends with the echoing refrain, "Lauba la banda habunana."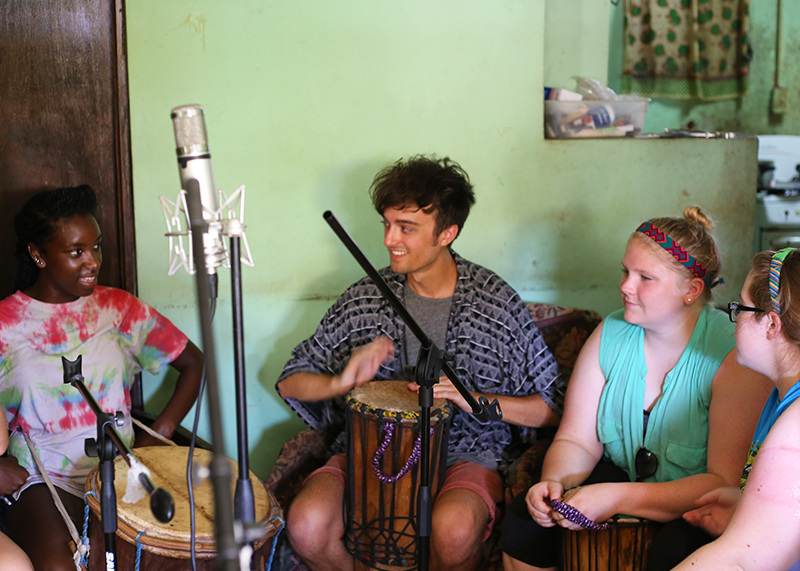 Bury me with the band. That's what the wake was all about. Even before dusk, the normally hushed village of Hopkins was booming. Hundreds of people roamed about the street chatting, drinking beer and rum; most wearing clothes common to clubs and parties, instead of standing stiff in black tie. On our way home, we waded through the crowd and the delicious smoke permeating from the food vendors that had popped up on the side of the road. We relaxed at Seagull's Nest, observing the commotion from afar. The party would go on through dawn, so we were in no rush. I didn't make my way inside until midnight or so when music was to start.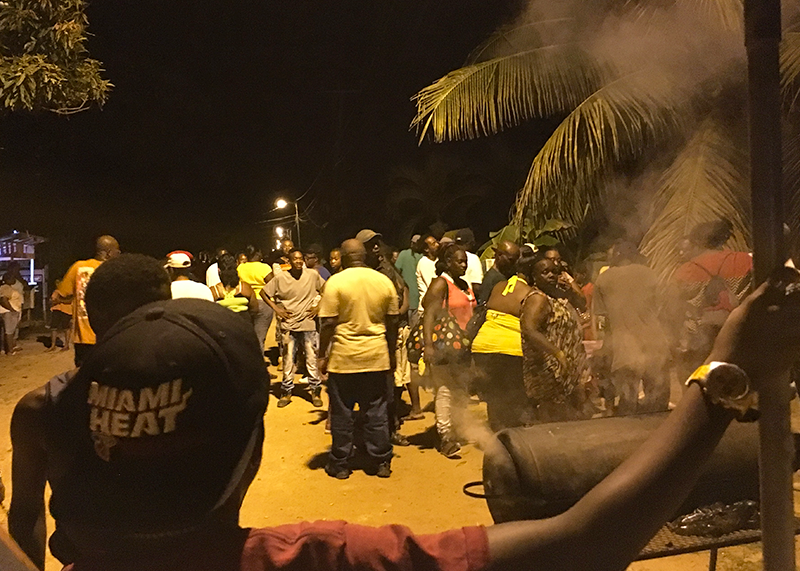 The event lived up to the hype from the moment I stepped in. People were packed under huge tents, dancing and singing, listening to DJs shout into mics, blasting reggae, dancehall, punta, pop, and all types of upbeat crowd-pleasers. Finally, I got close to the stage with some buffer room from the mass. Watching a slideshow in John Jay's memory projected on a house in front of me, I noticed a very calm and collected woman nearby holding a very aromatic and scrumptious-looking bowl of stew. Having caught wind of free food, I asked her if it was for everyone. She jumped at the chance to go snag me a bowl.
When she came back, I asked her about Belizean wakes. Was this kind of energy and turnout to be expected with any wake or is this a unique case since John Jay was a musician? "He was very well known, but it would be the same with anyone. When Belizeans hear 'death,' they swarm to it," Tyola I.C. told me pragmatically. She was a close cousin of John Jay's wishing she had grown even closer, but she was happy to be here to celebrate him.
I focused intently to tune out the pounding speakers behind us while she gave me a hoard of information about Garifuna culture and funerals. When someone dies, everyone is alerted. Close family and friends go to the house to talk, pray, and make preparations for the wake. This marks the first night of novena, the nine nights of prayer. All gather at the wake for a huge celebration before everyone walks the body to the funeral the next day, playing lively music the whole journey there. She said there are few who prefer to keep the music toned down. Then, the following week is dedicated time for family and friends to stay at home to pray as they are visited by more condolences, stories, and prayers. The ninth and final night is beluria. Much like the wake, loved ones join in merriment for this final send off of the departed to seiri, the great beyond.
Tyola was so proud and knowledgeable of her Garifuna customs. As a non-religious person having heard multiple Garinagu confidently own their heritage and belief system, I had to ask, "Are you religious?" She looked at me with uncertainty. Tyola explained though she grew up Catholic, she began to read deeper into her religion when she was older and decided it wasn't for her. "I would not call myself religious, but I seek spirituality." Today, her favorite way to do this is through meditation. It was refreshing to hear Tyola's perspective, and even a couple of non-religious folks like ourselves found beautiful significance in discovering we shared the same birthday.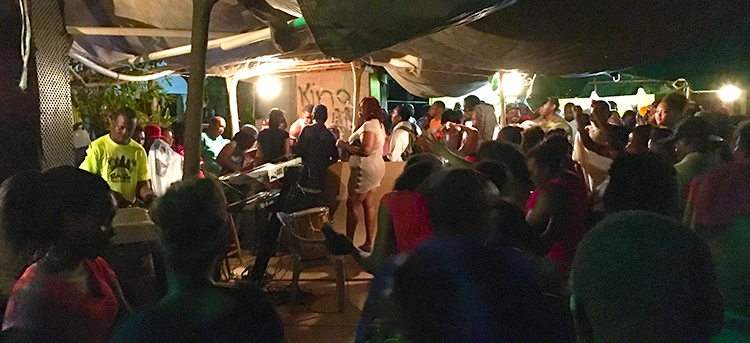 During our final commemoration of our Belize study abroad trip, I sat next to Rudolph "Baba" Coleman who casually shed wisdom upon me all evening. He had taught us how to make Garifuna drums and gave a heartfelt lecture on Garifuna spiritual rituals such as the Dugu. Judging from the way he speaks, he must be more religious than Tyola and I, but I never did see him at the wake. Even if it was a boisterous occasion, there were many older men and women relaxing in lawn chairs among the more restless youth, so I asked him if he went. He said he didn't have any interest anymore staying up so late with a bunch of drunk people.
"I'd rather be dead," he chuckled sipping his red wine. I wasn't really sure if he meant literally dead or maybe just asleep. Either way, the meaning was the same. Baba was more than ready to go—smiling as he waved goodbye and told us he probably wouldn't be around when we returned. Hopefully, we will see Baba again. His approach toward life and death in all aspects was comforting.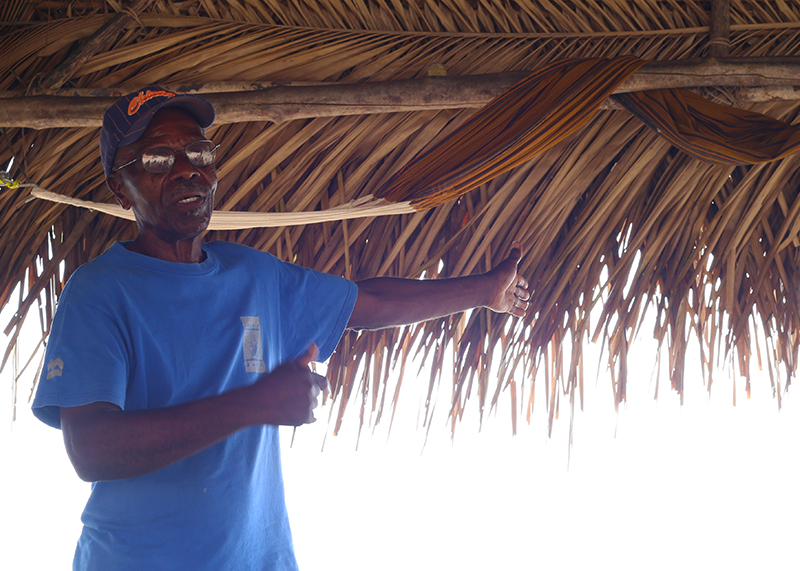 The night before our departure back to the states, I talked with the owner of Seagull's Nest, Juanita Castillo. As we talked about life in Belize, I uncovered her frustration at the lack of neighborly behavior nowadays. This must be common all around the world. "It used to be someone died, and they'd go up the road, knock on every door to tell the village. You might answer and give your condolences, and even in the middle of the night, some would get dressed and go see the family. Now? No way! Everyone is looking down at their phones and you never hear a thing."
It's true that somehow by being more connected, we fail to cherish the connection. I like to think I do cherish it, but we are all guilty of taking our blessings for granted. Minutes ago, I was messaging Tyola via Facebook, and she told me Jess Flores had passed away. I'm still in shock. Such a nice man and great teacher—gone after we shared one lesson, one performance, and a handful of conversations. No one would have traveled 1,500 miles to knock on my door and break the news, but thanks to technology, I am still connected to the people of Belize. In minutes, I was able to read pages of kind words for Jess, his family, and his community. I've watched videos of his performances and projects, and I've sifted through pictures to learn about a man I didn't have the privilege to know better.
Of all the instructors, Jess proved to be my favorite. It was his attitude I appreciated most. He cared about his students, and that was exemplified through his actions—not his words. Most every drummer we talked to was at least a bit boastful when comparing themselves to other local musicians. You wouldn't hear it from Jess, "I'm not here to say the way I play is better than how Warren plays or anyone else. Warren is a great drummer. I've got my way and he has his." Everyone should think like that. There is no better. To me, that kind of sincerity and willingness to collaborate with others is much more important than performance.
So many lessons to be learned from Belize. Death is one subject I never thought I would explore there. And I definitely never thought I would see it in such a positive light. Like the Belizeans, I will try my best to live each day to its full potential and aspire to grow right through my time to die. Until then, I want to enjoy life—not grieve over its end. I want to celebrate the time we were given on Earth. Those who I leave behind better do the same when I'm gone. And they better throw a big wake for us all and bury me with the band.